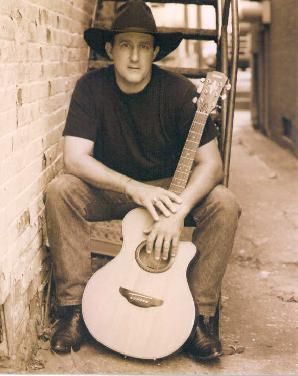 Jerry began his musical pursuits in the late 70's as the bass guitar player for the rock band Ozone that he and his friends Chris Kane and Dan Herman formed as juniors in high school. From that beginning he played with various bands, mostly in the Heavy Metal genre -believe it or not! Though he played in heavy metal bands, Jerry was always country at heart. "I always loved country music", says Jerry. I enjoyed it as I was growing up when my mom and dad played it on the radio. I never told any of my friends that I listened to country because it would have 'ruined' my image as a 'rock star'". He continued, "I did some pretty wild things back then. I wore spandex pants, spiked arm bands, hand cuff belt, etc. I even shot flames out the end of my guitar for some awesome effects".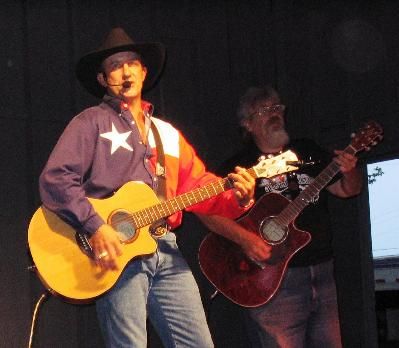 Jerry's first performance on a country stage came in 1988 at the True Value Country Music Showdown at the Tussey Mountain Ski Resort. Though he had never performed country music in public prior to the show, he placed 3rd in the competition! After the show he was approached by one of the judges, who happened to be a representative from MCA/Nashville records. Jerry was asked to develop some original songs and submit them to MCA for review. Though the opportunity was intriguing, he never pursued it. "I'll never forget the feeling I had when the judge approached me after the show", stated Jerry. "To say I was excited would be an understatement". When asked what happened Jerry explained "I guess it was just timing. I didn't have any contacts in the song writing industry, and I hadn't wrote any of my own songs. As time went on, life just kind of took over and I had to focus on making a living".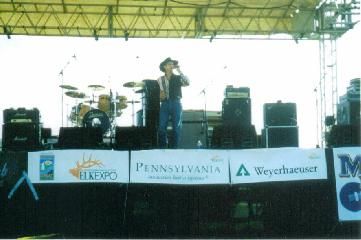 Although Jerry was inactive as a performer for the next few years, he never lost his love for music. "I met a musician from State College, Pa. named Tommy Wareham. He turned out to be one of my greatest friends and supporters. He inspired and encouraged me back into music". In October of 2000, Jerry videoed three country songs for the Fast Track To Fame and Sonic Records nationwide talent search competition. He was chosen "most marketable" by the Sonic Records label and offered a professional recording and promotion package. In September of 2001, Jerry made the trip to Winston-Salem, North Carolina and recorded the song "I Wonder If She Thinks Of Me". After the release of the song to radio, Jerry's first recording actually rose to #48 on the nationwide Indie (independent artist) chart! It stayed on the chart for 5 months! "I was so excited about the success of my first release!", Jerry said. "To have a song played on national radio was great, but to have it climb the charts because people wanted to hear it was a dream come true!". Since that initial success, Jerry traveled to Nashville in 2004 after signing with A.M.I. Records and recorded two songs "It's A Good Thing" and "If Only". On January 23, 2006, "It's A Good Thing" was released on the Lone Pine Records label to over 600 radio stations in the United States, Canada, Australia, New Zealand, Japan, and various parts of Europe. 2006 will find Jerry in Nashville once again to record his first full-length CD. He has teamed up with songwriter/producer Tom Paden (Paden Place Music). Jerry comments "I'm very fired-up about working with Tom. He's a seasoned veteran in the music industry in Nashville, not only as a quality songwriter, but with the skills of a great producer, to help me bring quality music to my fans!".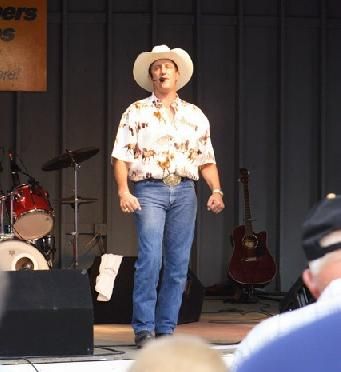 Jerry's music career appears to be on an upswing, and with influences like George Strait, Merle Haggard, Steve Wariner, Tracy Byrd, and Brad Paisley, it seems he's now deeply rooted in country music. He formed his current touring band, North Country, in 2005 and played some great venues including the Clearfield County Fair, Centre County Grange Fair and Encampment, Relay For Life and Children's Miracle Network benefit shows, and a variety of other concerts in the U.S and Canada. Jerry also became very popular in Canada in 2005, as well as overseas in Australia, New Zealand, and Belgium. In 2006, Jerry won The Starliners Most Popular Indie Artist award. He has opened for such acts as the Marshall Tucker Band and Neal McCoy, and is looking forward to hitting the road in 2013, and meeting lots of new people. "I really feel this is the year to make some big things happen", Jerry said. The thing I love the most is meeting new people. I never miss a chance to honor our military veterans. I also enjoy talking with the children at my shows and try to influence them to dream big and not be afraid to chase those dreams!". We're sure you'll be hearing more from Jerry very soon..........
Calvin Walls - Drums/Percussion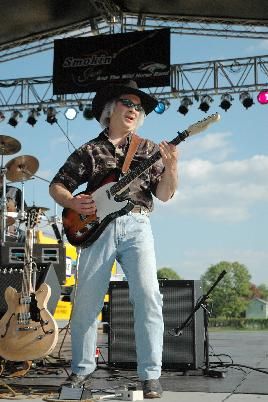 I grew up in the small rural town of Soldier, Pa. There was not much to do there as a small boy and, being an only child, I almost always had to make my own entertainment. At the age of six, my father taught me 3 chords on the guitar. I must have been doing some good things with those 3 chords, so my parents encouraged me to take some lessons. I did that for 7 years. I would look out the window at my friends playing ball, or whatever, and I was stuck in a chair in my house practicing. The practice eventually paid off, and then I started playing by ear. I was in various bands in my teen years (none of which got out of the garage - Ha!). When I was in my twenties, some of the better bands were "Headhunter" and "Victim", all rock and hair metal. It wasn't until about 4 or 5 years ago that I started appreciating the sound of country music, so I joined a small local country band. I had a lot of problems trying to make the musical adjustments necessary to play that required country sound, but the guys in the band stood by me, giving me support and encouragement, until I got the desired sound instilled in me. I owe a lot to those guys (you know who you are!), Dale, Mike, and Terry - many thanks to you! The very first time that band played a gig, the singer was introducing the band and when he got to me he said: "Not even a year ago, this guy was all rock and metal, and you can say he turned over a new leaf, but I think he turned over the whole damned tree!". We all had a great laugh, and I thought it was priceless! One night about a year ago, I was at "Over The Mountain" kicking up a few jams when a guy came up on stage and started singing. I didn't know who he was, but he sure sounded good. He came to me afterwards and told me he liked my playing style and introduced himself as Jerry Schickling. He told me a little about what he was doing and, of course, it sounded very exciting to me! He asked me for my phone number, and almost a year later Jerry called me to ask if I'd be interested in playing lead guitar for him. Needless to say, I got an ear-to-ear grin on my face over the phone and said "You-betcha!". I'm extremely excited and honored to be a part of North Country! Each musician in the band is super talented and, when we are brought together as a whole, the sound is electrifying! I want to thank Jerry, Bill, Wild Bill, Greg, and Brenda for making me feel welcome, and to be part of something that is very close to my heart - making music that makes everybody feel good. By the way....thanks Dad! Jerry adds: "Bringing Mark to the band adds an ingredient that we were missing. The first time I heard him on the "Mountain" I knew he had an incredible gift for the guitar. His style, and the licks he was playing, captured my attention right away! Myself and the rest of North Country want to welcome Mark to the band, and thank him for choosing to be part of what we're doing!! We know you'll be impressed too!!
"Murph" Martell - Guitar/ Vocals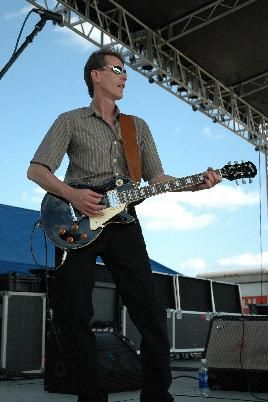 Murph (Gordon Martell), is a Clearfield Pennsylvania native... sang lead/harmony vocals and played lead guitar in local bands including Jagged Edge, Shyster and Double Shot, among others. His outstandingly diverse vocal ability will give ya goose-bumps, and his seasoned guitar licks makes ya go "whoa" ! "Hi folks! Murph here. Yes the rumor is TRUE! I have joined forces with Jerry and North Country. I feel that with the talent and our love for music, this band will produce some of the sweetest sounds that anyone could put an ear to. I would like to thank Jerry and NC for inviting us along on this endeavor. I would also like to thank all the M&T fans and supporters, inviting you to join in on a great thing about to unfold. See ya soon" Murph!!! Jerry: "What can I say? Murph joining North Country is an incredible step forward for me and the band! He not only brings his awesome guitar playing to our sound, but his vocals will bring out the best in my sound! I'm very excited to have him a part of North Country!"
Gary Bowser - Bass Guitar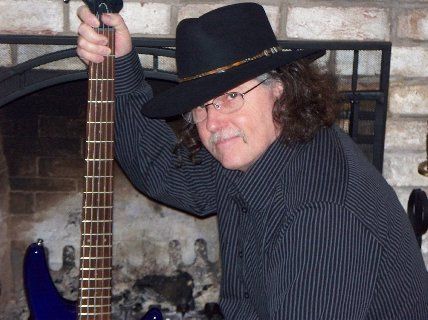 Hi, Gary here! I'm the new guy in the band and I play bass. I'm from Reynoldsville and am retired from the Owens Illinois Closure Division, Brookville Plant. (The plant has since been sold to Rexam Corp. – see - I told you guys you couldn't do without me.) For the past several years I've been playing bass on the 3rd Weekend worship team at TCC. tricountychurch.net (You can see me standing on the far right on the webpage.) I also play with The Sounds of Swing, sponsored by the American Legion and directed by Jack Averill. In the past you may have seen me playing one of Ray Fitzgerald's "Tribute To Elvis" shows at the Jefferson County fair. I was watching TV one night when Jerry called looking for a bass player. Since playing bass is my main job these days I said I give it a shot. The rest, as they say, is history. I've been learning their songs one at a time. I've been Savin' It Up For Saturday night every Tuesday now for well over a month. Sometimes I forget a chord change but It All Comes Back To Me. Most of the time I'm 99.9% Sure. This band is 24/7/365! I'm glad I joined these guys because I don't want to have to say I Wish I Had or If Only. Now don't accuse me of being a Politically Incorrect Redneck just because I say Some Beach once in a while. Just come out to a show and introduce yourself and enjoy some great country music with us. Jerry: Gary brings bass playing experience and creativity (as you read in his bio) to North Country. We're very excited to have him join us on the road this year! C'mon out and meet him...we know you'll be impressed!!!